We have many happy clients who have recently bought horses from us, most of them from pictures and videos, without making the trip to look at them! Below are some of their letters and accomplishments: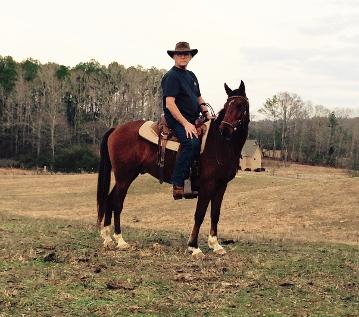 Kenneth and Darlene Batson, Cropwell, Alabama: We are so impressed with COWBOY! We bought him from a picture as a two year old. I would recommend any horse bred by Rita at Welcome Arabians!" (2017)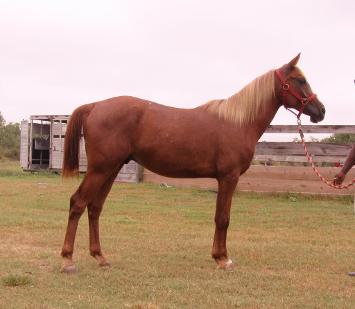 wma SPARKS has found a great home with Mary Fields of Mineral Wells Texas! Mary, in her 70's, and a former Tevis cup completer, plans to endurance ride him next year.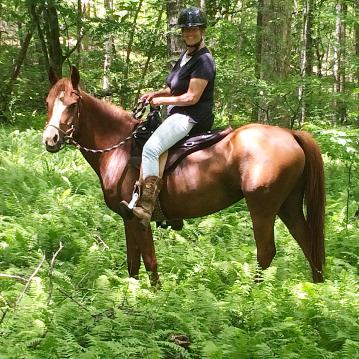 "WMA BALLERINA finished her first 25 mile endurance ride a Rock Bridge Alabama, 2016. Got all A's from the vet AND she ran beautifully--a good minded horse! Thank you for a well bred horse! I could really count on her and we rode as one! Couldn't be more pleased with her!" Darlene Batson. Ballerina is by THE KENTUCKIAN, and out of a Monarch ah daughter.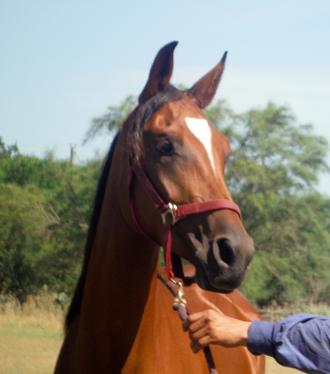 Pierre Dante from South Dakota says "I'm finally riding TRUE! (wma Gospel Truth). Our season is almost over, but we shall do a lot of schooling over the winter and start her with some slow 25 mile rides next year!!" October 2016.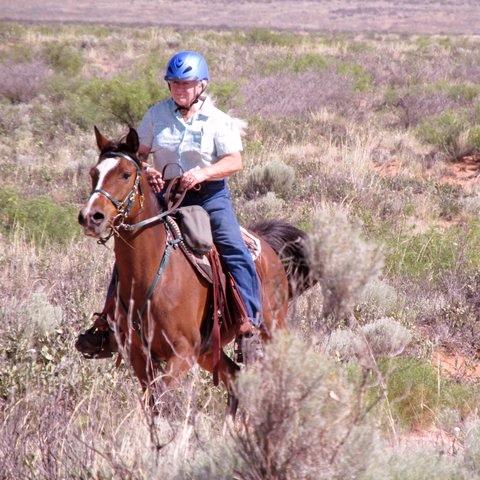 "Just a short note to let you know how Banner is doing. Marileen rode her on a 30 mile Barefoot New Mexico, on Oct. 17, and received Best Conditioned and third place! 10/31/15 she rode on a 25 mile at Indian Springs,, New Mexico and received first place and Best conditioned! Needless to say Marileen likes her mare: she has been on 7 rides and taken 4 Best Conditions! " Marlin and Marileen Horton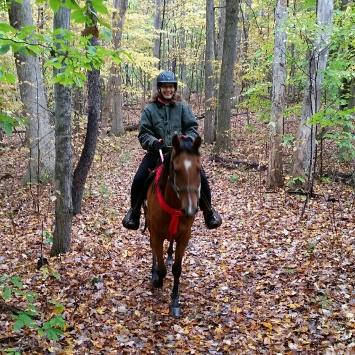 WMA NEW SONG and RUTH ANN in Ohio! Her smile says it all! photo left. Song is by THE KENTUCKIAN.
Annie writes: "Rita, I have passed your info around to all my endurance friends. I have told them how prompt, attentive, understanding and great you've been in our communications. I also realize how you want to find the right fit for your horses so that they lead useful, good lives! Its great to have people like you in the industry!"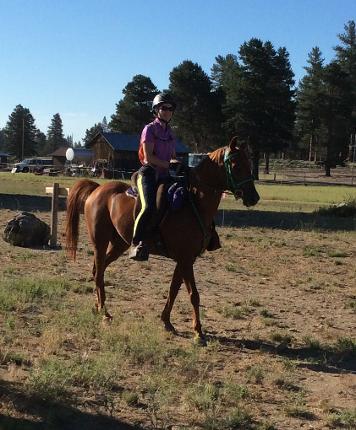 WMA THE CALL: "I want to pass along a great big THANK YOU for matching me with THE CALL. He is a perfect fit for me, and I couldnt be happier with him!" Jamie Hughes, Oregon
CALL is by THE KENTUCKIAN, out of a WIKING daughter.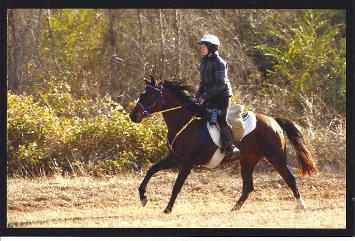 WMA LA PRINCESSA: the Bob Marshal family successfully completes another endurance ride in West Virginia! photo left.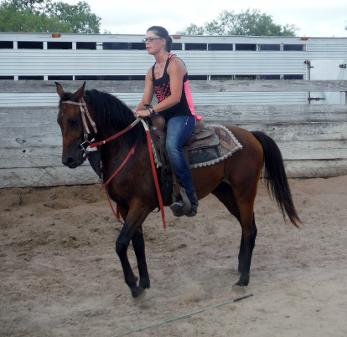 WMA DESERT RAIN: "RAINY" arrived safe and sound. He settled in right away and was very much a gentleman. He's beautiful, smart, curious and kind, and we clicked right from the start! Thank you for breeding and raising such a wonderful horse! I'm looking forward to training him and eventually competing with him. I'm in love already!" Jennifer from California
Update: Rainy has now completed his first LD in California and did superb! (2017)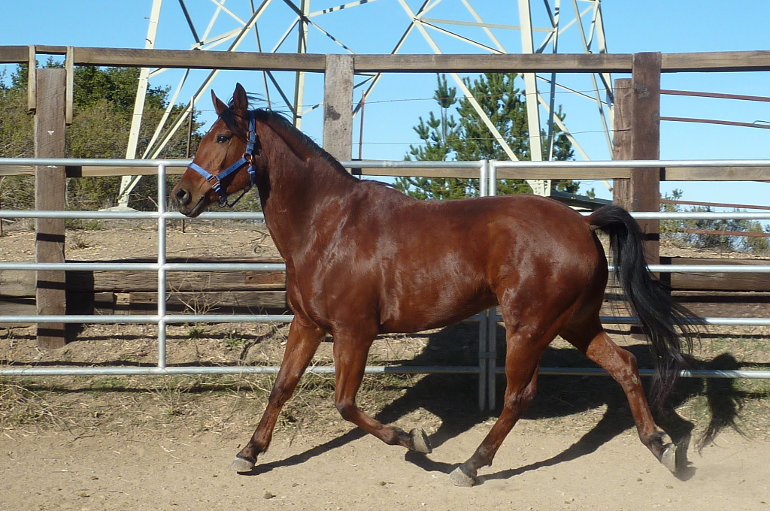 Above: From Ros, MARCH 2014: Rita, I have attached recent photos of wma ORATION just so you can see him in his new home in northern California. Everyone in the barn is in love with him-he has such a sweet temperament!"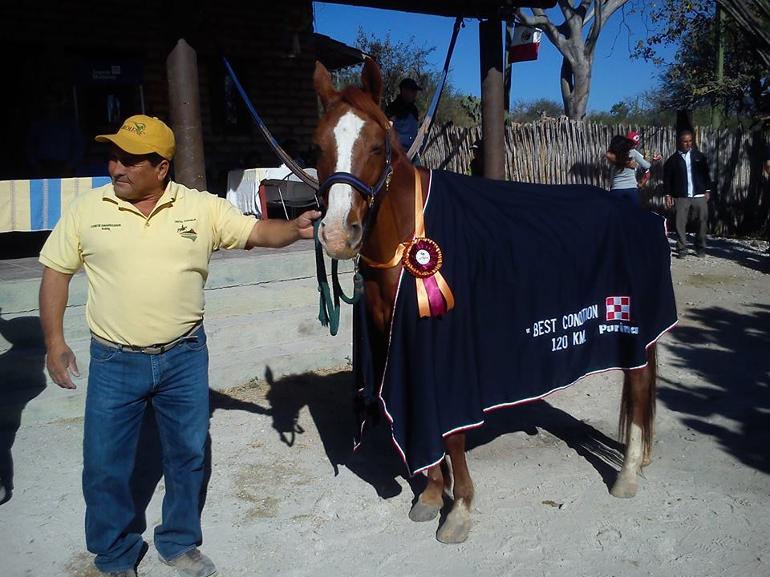 WMA NEWEST STYLE won and best conditioned ( March 2014)at the FEI 120 k endurance ride near OAXACA Mexico! Congratulations Bobby and Mary Jane! This mare was bred and raised by Welcome Arabians.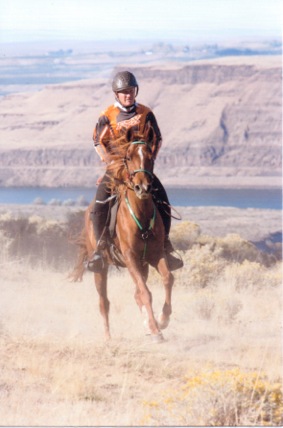 TWO CHAMPIONS! Dennis and wma RADIANCE, above, winning the 100 mile Endurance ride at Walla Walla Washington in October 2013! This pair consistently have won and received best conditioned throughout the Northwest circuit at 50, 75, 80 and 100 miles!!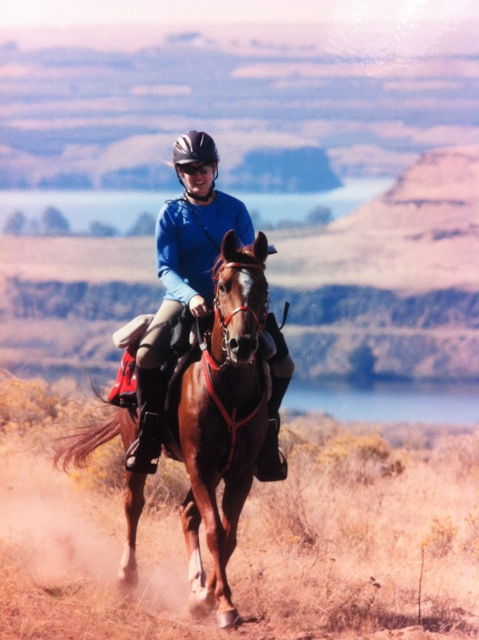 Above: wma SEAWALKER, alias "CHUNKY MONKEY" Successfully completing his first 50 miler with Kendall Ingraham! What a team!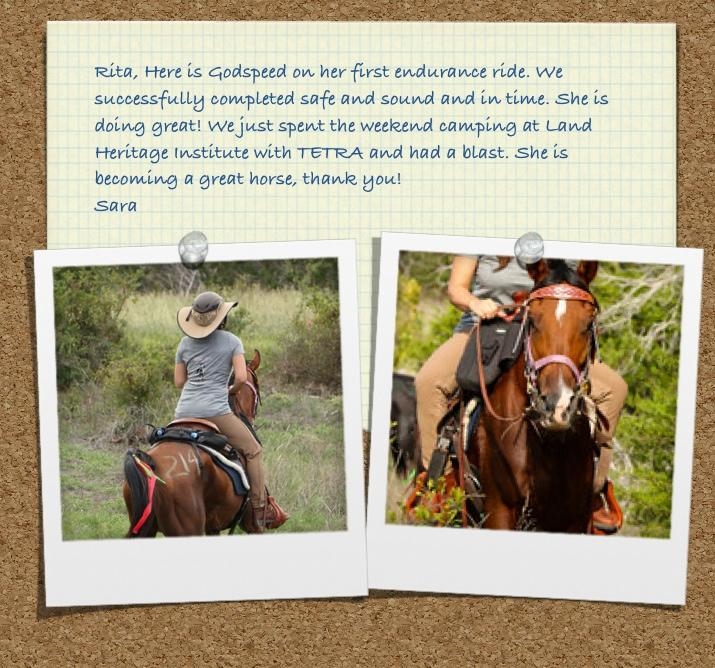 above: a recent purchaser of a WMA horse competes successfully near San Antonio Texas!! Sired by THE KENTUCKIAN, out of a Wiking daughter.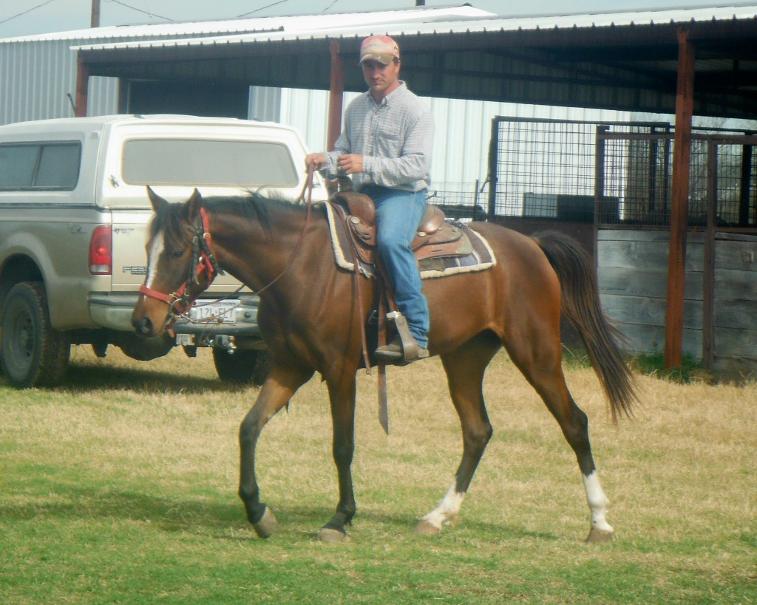 Bob Marshal from West Virginia wrote: Oct 21, 2013: "Just wanted you to know how La Princessa (Tess) is doing...we have her in training with Jenifer Poling, who was with us on our trip last April...Jen rode her on a tough mountainous 30 mile endurance ride on Oct 12, and she did fantastic! Tess completed in great shape, acted a if she was just out for a stroll. Nothing fazes this mare, she takes wonderful care of herself and her rider. She loves people and goes along by herself with no problems. Jen thinks in time she will be a star in endurance! We plan on riding one more LD this fall, then resting til spring. Thank you so much for selling us such an enjoyable, solid horse....Bob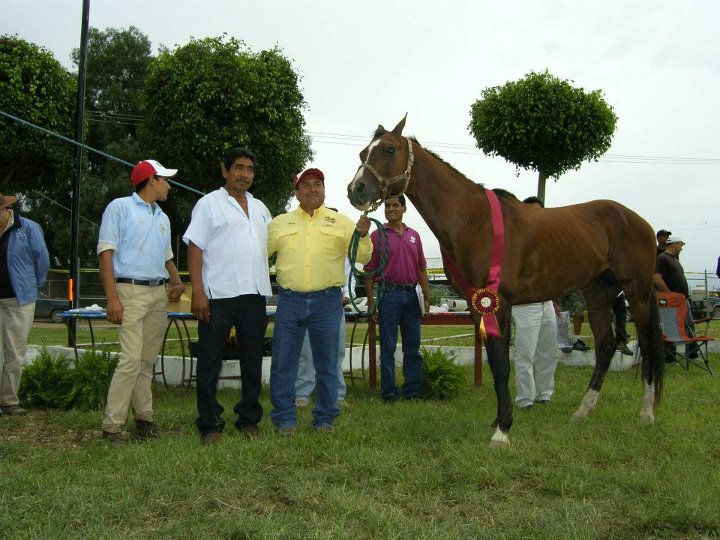 ABOVE PHOTO: FERNANDEZ: After winning the 60K National Endurance race near Oaxaca, Mexico, August 2012.Fernandez is a former race winner bred by Welcome Arabians, a son of IBN BINT HILYURI, now owned by Mary Jane and Bobby Ortiz. Congratulations!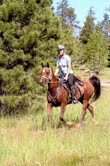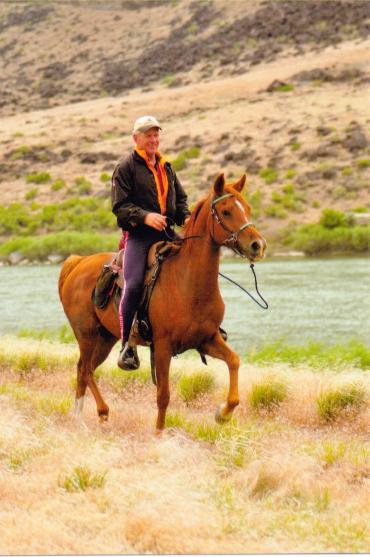 Above: Oh SUSANNA and Susan Summers, winning 50 miler, above right: Dennis Summers winning a 100 miler with wma RADIANCE (CINCO).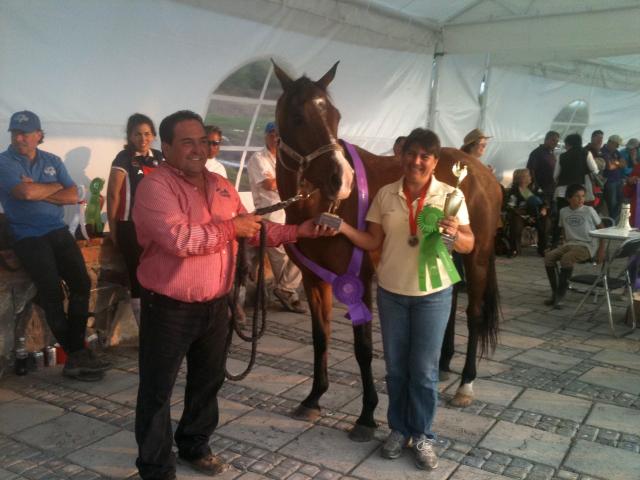 ABOVE: Mary Jane Gagnier and bobby Ortiz win the championship endurance ride at OAXACA MEXICO! WMA ZEBULON was the 2010 and 2011 Mexico National champion endurance horse! He was a race winner in the USA before export.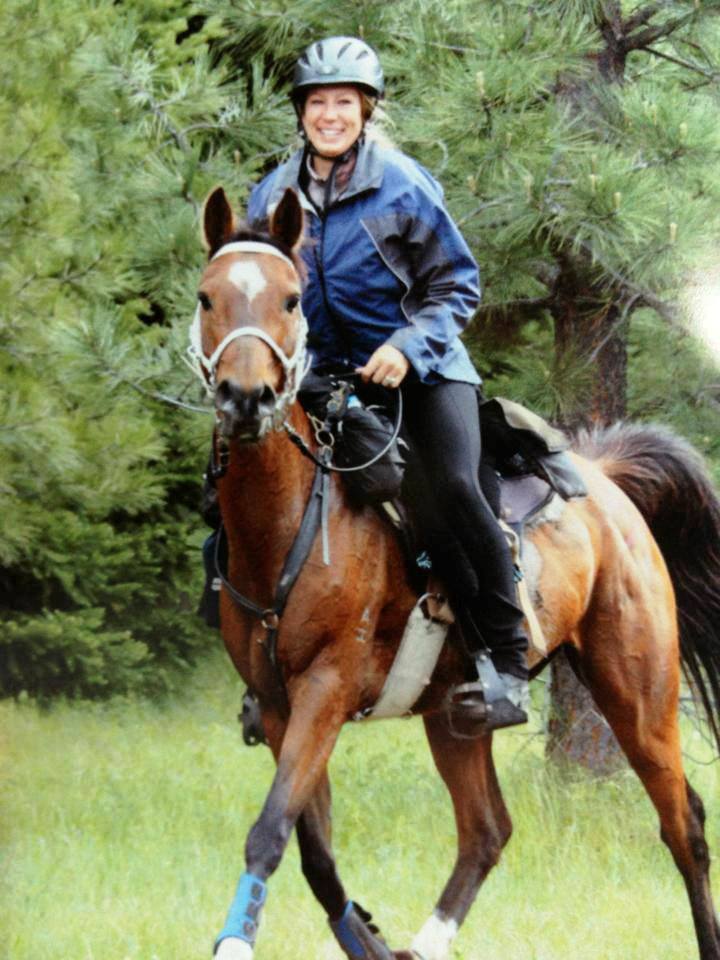 Above: SUSAN SUMMERS and PEACH (oh SUSANNA), a winning combination! They just won again, and received best conditioned at the fifty miler at Walla Walla WAshington October 2013!! Peach was purchased from Welcome Arabians, by IBN BINT HLYURI, out of MONARCH AH daughter!
MARLIN HORTON from New Mexico!! (above photo: wma LOVES BANNER)
"We picked SAMS STYLE up and he was everything we hoped for! Thanks so much for LOVES BANNER and STYLISH LADY! They are both nice fillies and we'll be riding them in the near future! I think Marileen wants to ride Banner on a limited distance ride by the end of summer. If anyone is looking for a good Arabian horse, they need to get in touch with you!" (Marlin is in his 70's!)
" Hey Rita,
Just a quick note to let you know how your horses are doing with us. Sue thought you might want a short letter of recommendation, so here's that!
Our three young horses from Welcome Arabians have been all we hoped for. They are already competing well at races and have shown the qualities we require in a good endurance horse--great conformation, movement, recoveries, and desire. As well, they have that Monarch disposition that makes them a pleasure to be around."
Dennis and Sue Summers
* Dennis finished 4th in the Tevis Cup in 2011, and they are competing successfully in both the Northwest and the Southwest US. AND RECENTLY WON on Welcome Arabians: OH SUSANNA, and on wma RADIANCE.
photo below LEFT: Sue on wma STEADFAST( "BONGO"), COMPETING IN ARIZONA
PHOTO BELOW RIGHT: DENNIS ON WMA RADIANCE, now known as "CINCO"!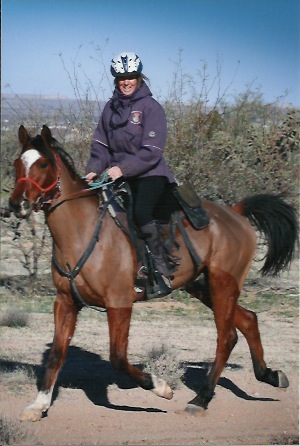 from Susan "Just got back from a huge hill climb ride with wma steadfast and wma Radiance. They did great! Did a 50 last weekend and tied for first and high vet score with her! The ride was really bad footing, but she did great and looked like a million bucks at the end!" (above Susan and Steadfast)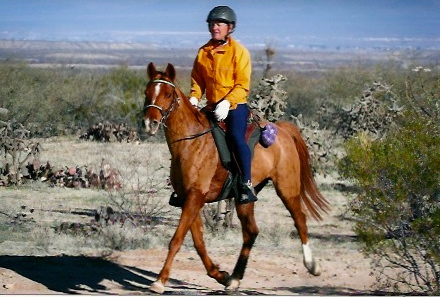 above: Dennis Summers on wma RADIANCE ("CINCO") "Another great ride!" Aug 13, 2012: Dennis rode Cinco in the 50 miler last weekend and WON and got BEST CONDITIONED; and my friend rode Steadfast, in the 50 , placed 5th and BEST CONDITIONED!"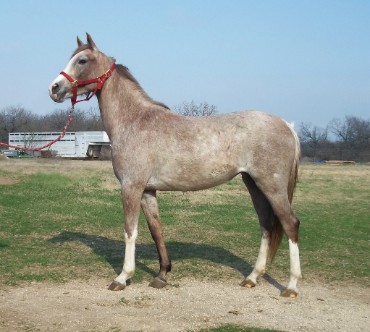 wma RUTH, by WESTERN LOVE ( ABOVE)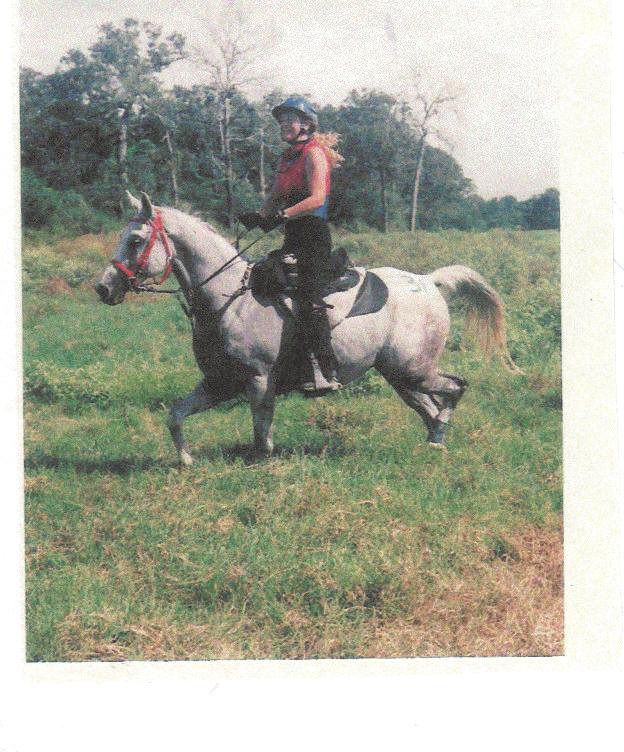 Above: wma RATTLER, "RIO", whom Donna Murphy rode to 19 wins and BC's !!
Jim and Tatiana visited us and spent the day reviewing the horses. At the end of the day, they commented that they were very impressed with the movement of all our horses, and that it was impossible to choose one when so many were so good! They returned the next day to ride several of them, and again had a hard choice. Finally when Jim rode three year old RUTH, he said he'd found the one he was looking for! After RUTH was safely delivered through ice and snow, Jim emailed me of what fun RUTH was having in the snow-since she had never seen it before! Jim is very excited about the upcoming endurance races, and happily gave several now- satisfied buyers great references for great horses and people! WMA RUTH LEFT PHOTO
DONNA MURPHY, March 2012
Hi Rita:
wma Proclaim is doing very well. I never know how a new horse will do at his first ride, and have to take precautions, and sometimes have to place the horse towards the end of the pack if they are nervous and worried because the excitement can blow their mind! At his first ride he was a bit excited, but controlable, and we went right out with the front runners, and held a very nice pace the entire ride. He did not spook, buck, or pull on me and had a good attitude. I did not push him, and he listened, and had nice energy. He looked great at the end of 25 miles and was totally sound. we tied for third place and I was way happy!
I also have the gray mare WMA Salvation, and am planning her first 25 miler this weekend!
Donna Murphy, Azteca stables, Texas